VataCom's "NO RISK" IT services
At VataCom we know how crucial it is to have a network up and running smoothly. With all applications running , without viruses, spyware or security problems. We are so confident that you will like what we do, we'll give you a "NO RISK" 10 hour block of time and if your network is not running faster and smoother than before VataCom came out – Your Company Doesn't Need to Pay a Thing!
Vatacom's "No Risk IT" at a glance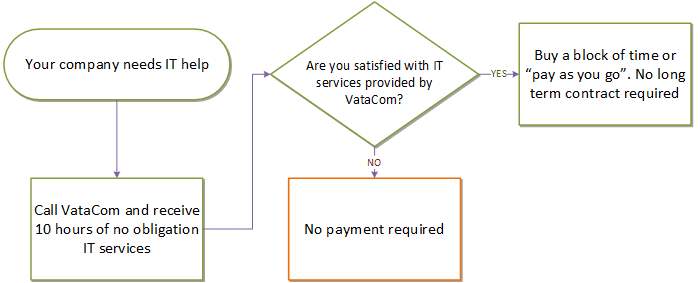 Consulting and Support rates
Vatacom believes good customer relations start with honesty. This includes letting the customer know what to expect up-front. Our rates are fair and are published below. We offer flexible payment options.
Below are our standard rates for IT consulting and technical support . We apply these rates when preparing invoices for our "pay-as-you-go" option. The same rates are the basis for discounts when a customer chooses to prepay for a certain number of hours.
Standard rates
IT consulting $175/hour
Phone system support $175/hour
Prepaid rates
Block of 40 hours $160/hour
Block of 80 hours $150/hour
Block of 100 hours $140/hour
Please note that these prices are subject to change without notice. For exceptional work requiring highly specialized personnel or technology, Vatacom reserves the right to charge appropriately.
Definition: Billable time
Defined as time spent to perform work that is not considered travel. This includes work done via phone, email,  remote internet connection, work performed at the Client's place of business, work performed person-to-person at our office, or work performed person-to-person at a mutually agreed upon location. Time is counted in 20 minute increments.