More than Just a Backup, It's Continuity

PROTECT ANYTHING. RUN ANYWHERE. RESTORE ANYTIME.
The Truth About Disasters
They can happen to any business at any time and the downtime they cause is truly catastrophic, many of which never recover. The strength to avert disasters and effectively handle the ones that occur starts with knowledge.
Downtime is Common
90% of companies experience some form of downtime, which may result in loss of data, security, productivity, and revenue.
Planning Ahead
The most powerful and flexible disaster recovery plan is local virtualization for SMBs and enterprises with physical or virtual servers.
Recovery is Painful
The average time it takes a business to recover from disaster is 18.5 hours, but 43% of companies never totally recover.
(Down) Time is Money
An hour of downtime costs $8,000 for a small company, $74,000 for a medium company, and $700,000 for a large enterprise.
Disastrous Situations
Disasters that cause downtime may be a result of hardware failure, human error, software failure, or natural disaster.
Soluton: Datto SIRIS3 Family of Appliances
All in One Platform On site and online
Backup, Restore, and Continuity
Get the 3 most important elements of data protection in a single fully integrated SIRIS package.
Network Attached Storage
Easily provision capacity on the SIRIS 3 appliance to serve as shared NAS file storage or as IP block storage with iSCSI.
Sync and Share
Access files on SIRIS 3 from anywhere using desktop or mobile clients and synchronize changes to keep files up to date, all while storing in their local infrastructure.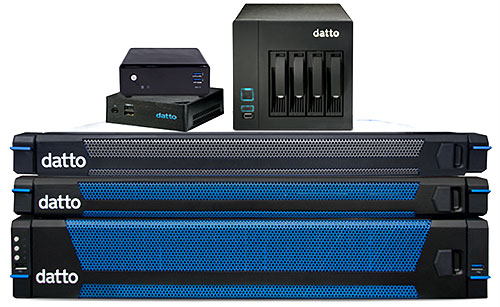 Backup Insights
Datto's Backup Insights provides the capability to rapidly identify and display what has been modified, created, or deleted between any two backups.
Datto's Backup Insights provides the capability to rapidly identify and display what has been modified, created, or deleted between any two backups. Backup Insights is available with no setup, and works for all backup client types (physical and virtual) for Windows OSes. Users can see the files that have changed between two recovery points, including those in long-term retention, and even instantly restore those files directly from a web interface.
Instant Virtualization
Datto Instant Virtualization allows a protected system to be virtualized and hosted either locally on a Datto BDR appliance (SIRIS), or remotely in the secure Datto Cloud (SIRIS and ALTO) in seconds
Regardless if the recovery point is months or even years old, Datto's DRaaS solutions end the long RTOs caused from reconstructing backups on disk or restoring from magnetic tape.
Instantly virtualize anything that can be protected (physical systems and virtual - either with agents, or with agentless backups), virtualize physical with virtual BDR, or even virtual with a physical BDR
Now backup data is immediately accessible for restore by physical servers , even before replacement disks arrive in the mail
Screenshot Backup Verification
Datto's patented Screenshot Backup Verification, and new Advanced Screenshot Verification, ensure business has the most comprehensive backup monitoring available
Datto validates more Windows and Linux backups, with greater frequency, from both virtual (agent and agent-less) and physical systems, than any other backup / DRaaS solution. Advanced Screenshot Verification adds the easiest application-level backup verification today.
Following backups, Datto BDR solutions virtualize and test-boot protected servers, detecting any backup concerns using a combination of screen recognition and patented CPU register algorithms
This allows large quantities of protected servers, even across a fleet of Datto appliances, to have backup data integrity validated at a scale traditional solutions could never match.