Introducing WILDIX W-AIR DECT cordless phone system solutions.

From 1 to 1000 DECT phones , W-AIR can cover it all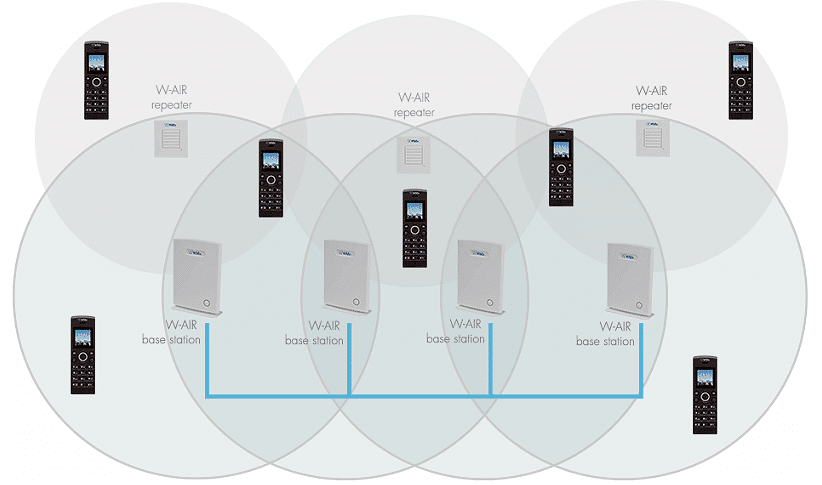 W-AIR Multicell Solutions
Wildix offers two types of base stations for multicell installations: W-AIR Base and W-AIR Base Outdoor. Both base stations support PoE 802.3af.
W-AIR Multicell DECT system supports up to 250 W-AIR bases or W-AIR Outdoor bases + Repeaters.
You can expand the system at any moment and connect up to 1000 cordless VoIP handsets by adding more base stations and repeaters which expand the base station's signal coverage.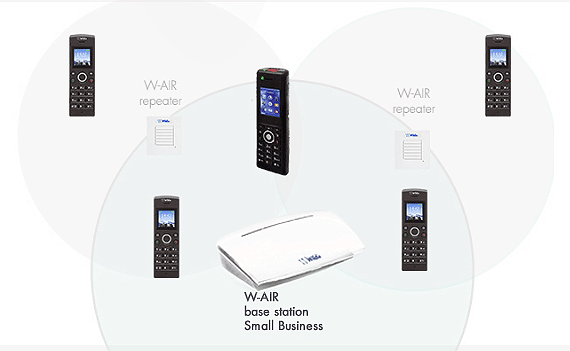 To create a Wildix Small Business system it's enough to install one Small Business Base Station to which you can connect up to 3 repeaters. Each system supports up to 8 cordless handsets.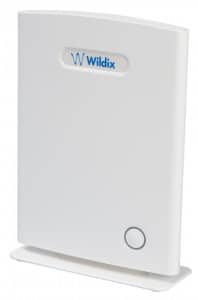 W-AIR Base
Up to 1000 users per system
Up to 30 users registered to 1 base station
Up to 250 bases per system
Up to 8 concurrent calls per base
Up to 8 concurrent handovers per base
Up to 3 repeaters per base
Up to 5 concurrent calls per repeater
Up to 100 repeaters per system
* Outdoor W-AIR base is also available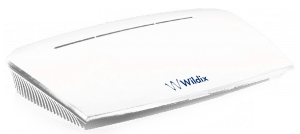 W-AIR Small business base
W-AIR Small Business Base supports PoE 802.3af thanks to PoE Splitter.
Up to 8 users per system
Up to 4 concurrent calls
Up to 3 repeaters per base
No multicell
Wildix W-AIR is a turnkey cordless DECT solution. Thanks to the auto-provisioning system, connection to the Wildix PBX is simple and immediate.
W-AIR 150, W-AIR 70 and W-AIR 100 are cordless VoIP phones fully integrated into the Wildix system and easy to install. The signal coverage is very extensive, thanks to the base-repeater system.
The system is developed on the CAT-iq protocol that allows both data and voice transfer on the radio channel and offers a number of advanced features, such as access to the shared phonebooks and presence status monitoring.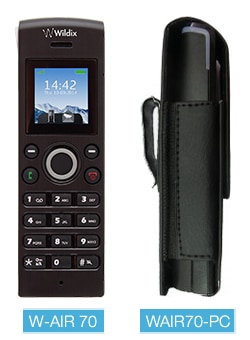 ---
W-AIR 70
1,44'' 128×128 pixels display
PRESENCE
Headset multisite registration
HD wide band audio
Integrated phonebooks
CAT-iq
Loudspeaker
3.5 mm headset jack
Belt clip case
(optional item, code WAIR70-PC)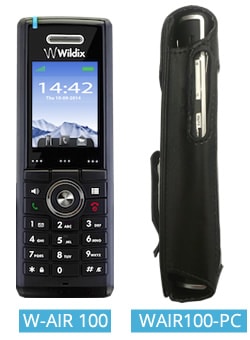 ---
W-AIR 100
All the features of W-AIR 70 +
2'' 176×220 pixels display
Vibration
PTT (Push to talk)
Belt clip

---
W-AIR 150
All the features of W-AIR 100 +
Bluetooth
Lone worker alarms
Alarm button and pull cord
IP65